The ISO-Weigh is an intelligent 'plug and play' dynamic weighing system which fully integrates into the ISOBUS system which is available in most modern tractors. As the operator lifts the trailer using the hydraulics, the display within the cab informs the user of the mass of the content within the trailer.
To achieve this, system uses a series of sensors to measure variables such as hydraulic pressure, the lifting speed, the slope of the ground, and the hydraulic oil temperature. After the operator performs an initial calibration routine, the system integrates these inputs to give the best prediction of the mass of the contents in the trailer.
The User Interface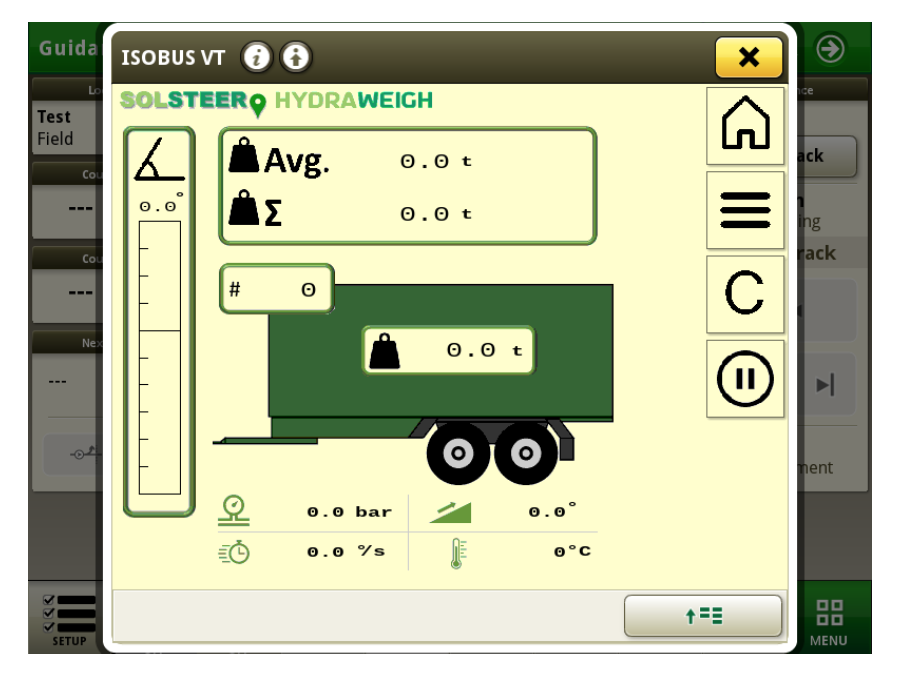 The ISO-Weigh has the following benefits:
Provides much greater accuracy for weight than a simple gauge
Retrofittable to any trailer or tractor combination
Simple calibration routine provides ease of setup
Data of total weight and average weight useful for farm management
An affordable weighing system when compared with load cell systems
Dynamic weighing upon lifting allows weighing without access to a weigh bridge
The system contains the following hardware
The system also informs the operator of the total mass recorded and the average mass for both job totals and lifetime totals.
Electronic Control Unit (ECU)
Pressure sensor
Gyroscopic sensor for the trailer chassis
Gyroscopic sensor for the trailer body
Temperature sensor (optional)
Harness complete with connectors